I'm not planning on a comprehensive, city-by-city analysis of France's election.  However, I will be publishing a two-part series on the presidential election, and possibly something on the parliamentary elections after they occur.
At this point, I am going to assume that you are aware of the candidates and of France's basic geography (where Paris is, where the Mediterranean coast is, etc.)
France's First Round results ended up like this:
Macron (liberal): 24.0%
Le Pen (authoritarian center): 21.3%
Fillon (conservative): 20.0%
Melenchon (leftist): 19.6%
Hamon (social democrat): 6.4%
Dupont-Aignan (populist conservative): 4.7%
All Others: 4.0%
In such a race, I don't think focusing on "winners" is useful: you can win with 23% or lose with 28% depending on the breakdown of other candidates.  So I will be focusing on vote totals.  Keep in mind that 21% or higher is a "good" result is that is what gets a candidate into the runoff if maintained across the country.
Traditional French Political Geography:
This is the 1974 election between centrist (or a tad right of center) Valery Giscard D'Estaing and socialist Francois Mitterand.  It was nearly 50-50 so it provides a good overview of traditional French political geography.  The left is strong in the north, the south, the southwest, and north and east of Paris.  The right is strong in the northwest, the east, and in the western Paris area.  Note also that the departments containing France's largest cities nearly all went for the right, including Paris, Lyon, and Nice (although not Marseille).
Here is the 2012 map.  The main changes from 1974 are: Brittany moves left, the southeast moves right, and Paris and its suburbs move left, although the wealthier parts of the Paris area still vote for the right. Expats (an important voting bloc, at 2% of the electorate) also support the right.  Note that in 2012 the Socialists did a couple points better than the right, so a very light red means the place is left of center in a neutral election.
The following maps are not self-generated, but taken from the World Elections Twitter page.
Demographics of Round One: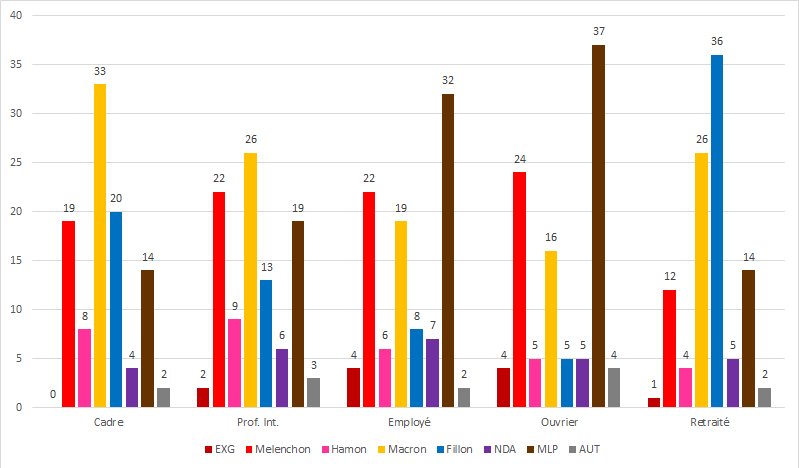 From left to right, we see management, then a sliding scale from white collar to very blue collar (ouvrier), then on the far right, retired voters.
You can see that Macron does very well with executives, and well with professionals and retirees.  Melenchon missed the runoff because of his extreme weakness with retirees.  Le Pen also does terribly with retirees (and management) but makes up for it with very strong showings among blue-collar voters.  Fillon is a total disaster among blue-collar workers but strong with retirees.
Interestingly, candidates left of Macron earned 27% with management and 33% with blue-collar manual workers, which is not a huge gap.  Traditionally the left would have done much better there.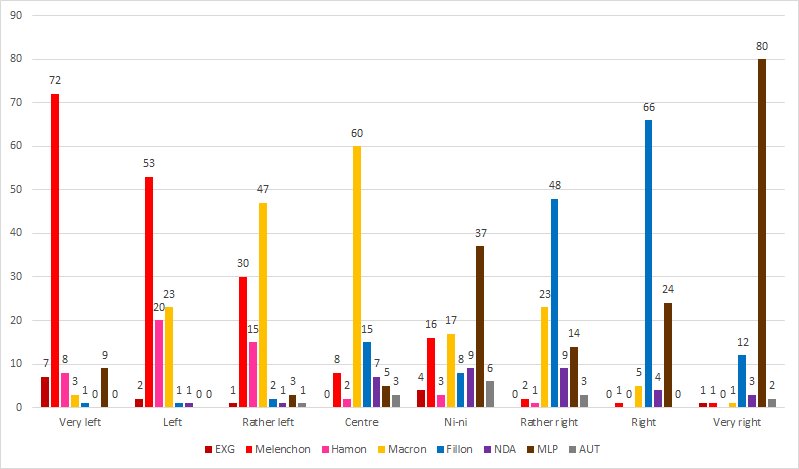 Next is ideology.  Here we can see that Macron was propelled to the runoff by voters who consider themselves on the left but not far left.  These are the disaffected Socialists he was hoping to gain.  The fact that he did much better with voters somewhat left than voters somewhat right provides some clues, I would think, into how he would govern (as a New Democrat type rather than as a true centrist).
While of course the Socialists were terrible across the board, Fillon managed an also abysmal 48% among center-right voters.  For a nominee of the party of the right that isn't acceptable.  Le Pen does well both with voters on the far-right and with voters who don't consider themselves fitting anywhere on the spectrum ("ni-ni").  For his part, Melenchon needed to earn more than 53% among voters on the left to make the runoff, although earning 30% with the center-left is very impressive for an outright leftist.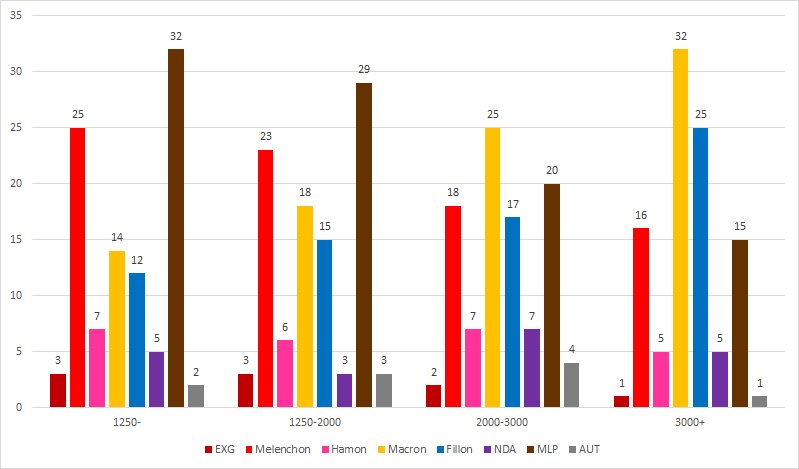 Next is monthly income.  Here we see that Le Pen/Melenchon and Macron/Fillon are opposites.  None of this data should be surprising, although the relatively flat totals for Melenchon across the board are interesting and point to the emergence of a "latte socialism" in France that has to be larger than just academia.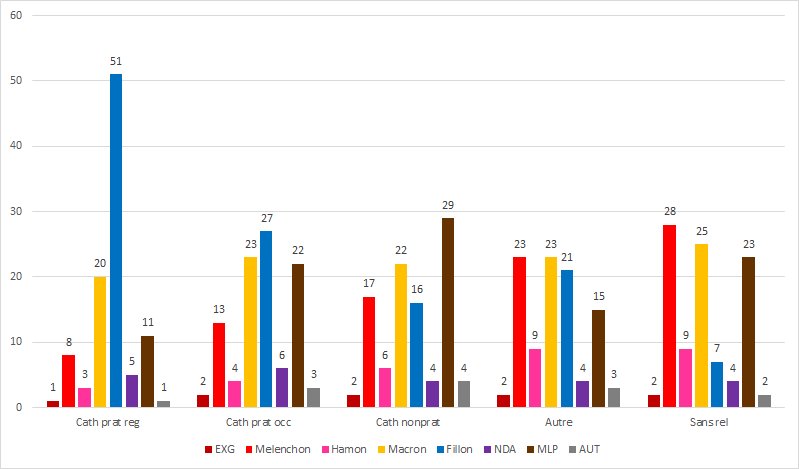 Finally, there is religion.  Fillon was dominant among religious Catholics, as the most overtly religious candidate in decades.  However, his 7% total among non-religious voters is embarrassing.  Even campaigning on small government alone should get you more than that among secular voters.  Macron was relatively uniform across the board, while the left does better with less religious voters.  Le Pen is pretty stable, other than with religious voters where she does worse.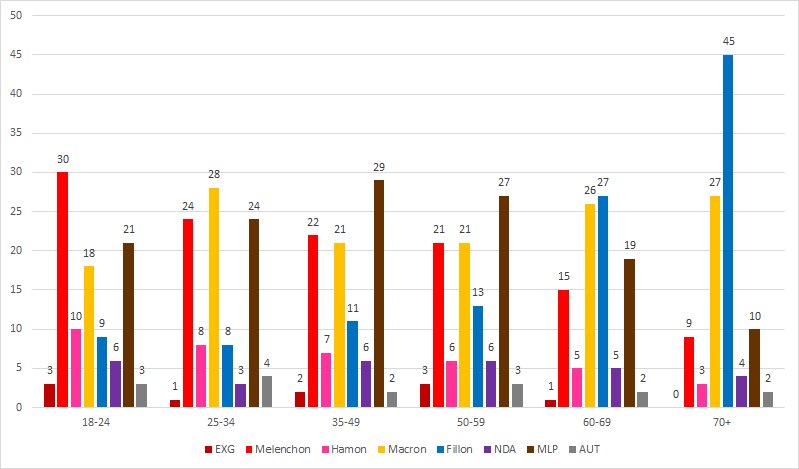 Next we have age.  The left is younger, the right is older.  But it's interesting how extreme it is: Fillon's combination of anti-Islam sentiment and religious conservatism is very appealing to the elderly and toxic among the young.  A party cannot survive as a major party if it earns 10% among voters under 60, as Fillon did this election.  The most important piece of information here is Le Pen's lack of support among the elderly, pointing to potential growth in the future as voters with first or secondhand memories of Vichy France die off.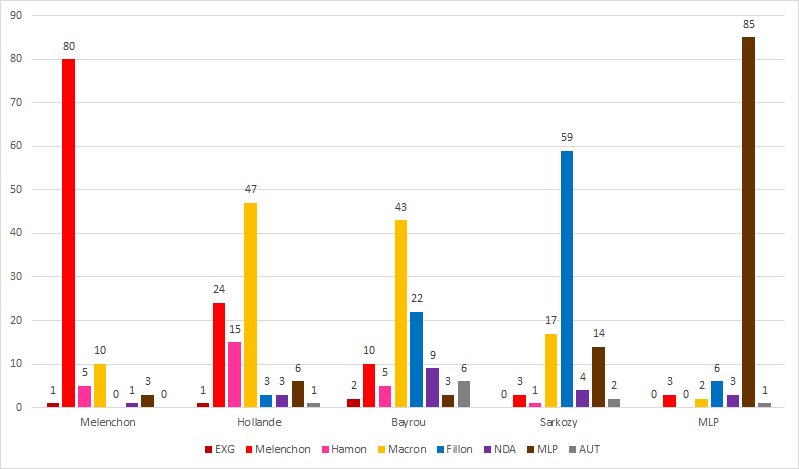 Finally, we have vote by 2012 vote.  Melenchon improved over 2012 by taking Hollande's left flank.  Hamon clung to only 15% of his party's voters.  Macron combined Socialists and Bayrou's centrists, while also taking significant support from the right and from Melenchon, surprisingly.  Le Pen grew a bit, but less than she would have wanted, taking less than 1 in 6 conservative voters despite Fillon's scandals.
Geography: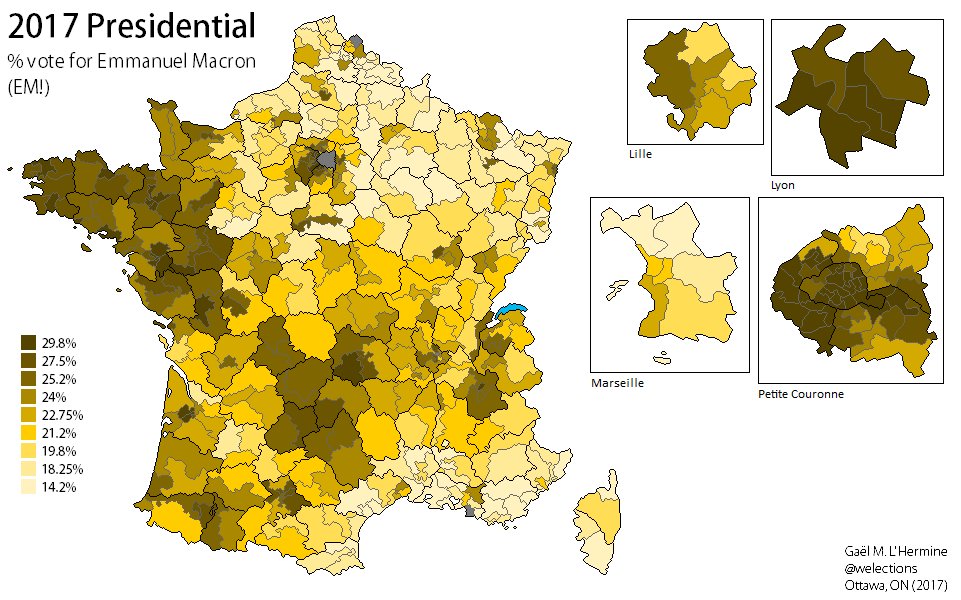 Macron found two bases: wealthy urban voters and northwestern France.  Not coincidentally, these are the two areas that are really succeeding economically.  Metro Paris, Bordeaux, and Lyon, like others in major cities, have seen solid growth, and Macron did strongly in all three, as well as in second-tier cities like Dijon, Strasbourg, and Nantes.  Brittany/Bretagne is an interesting region.  Firstly, it is Macron's home region.  But beyond that, it is most similar not to anywhere in France, but to Southwest England.  It has a Celtic history, joined France relatively late (although centuries ago), and has a small-l liberal tradition.  It has historically been a backwater and a region full of devout but not reactionary Catholics and generally voted for the Christian Democratic right.  As religiosity has fallen across France, Macron's liberal centrism is a great fit for a historically liberal but tolerant region that is "en marche" economically.
Macron does weakest in Le Pen's strongholds, and vice versa.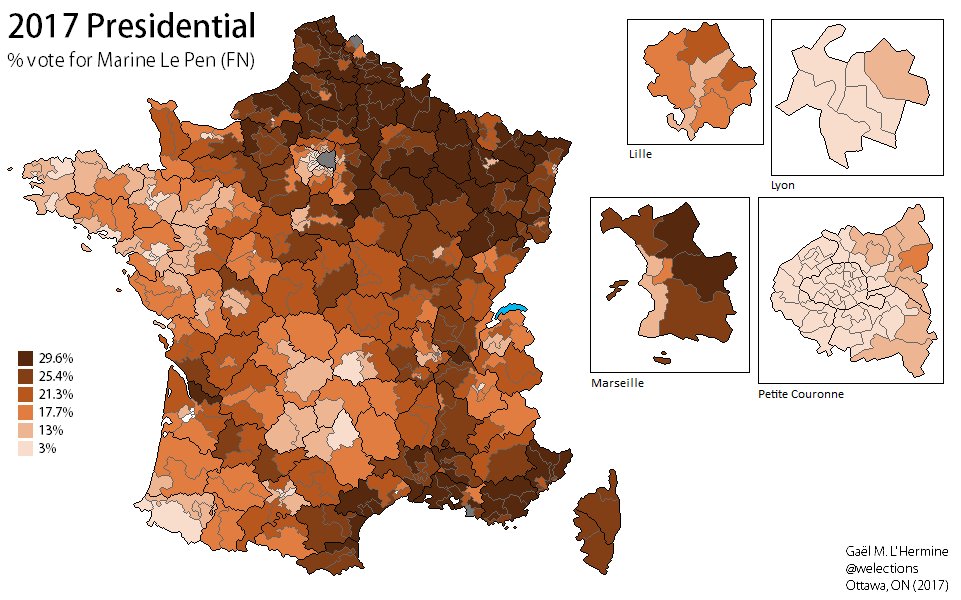 Le Pen's showing in Macron's base cities of Paris, Lyon, and Bordeaux was unsurprisingly abysmal.  Her strength is strongly correlated with proximity to Belgium or the Mediterranean.  These areas are blue-collar and, in the South's case, reactionary ever since the pullout from Algeria in the 1960s.  Geography aids the perception that Le Pen is dominant, since rural areas are better for her; you can see how many legislative districts there are in the Paris area where she scored single digits.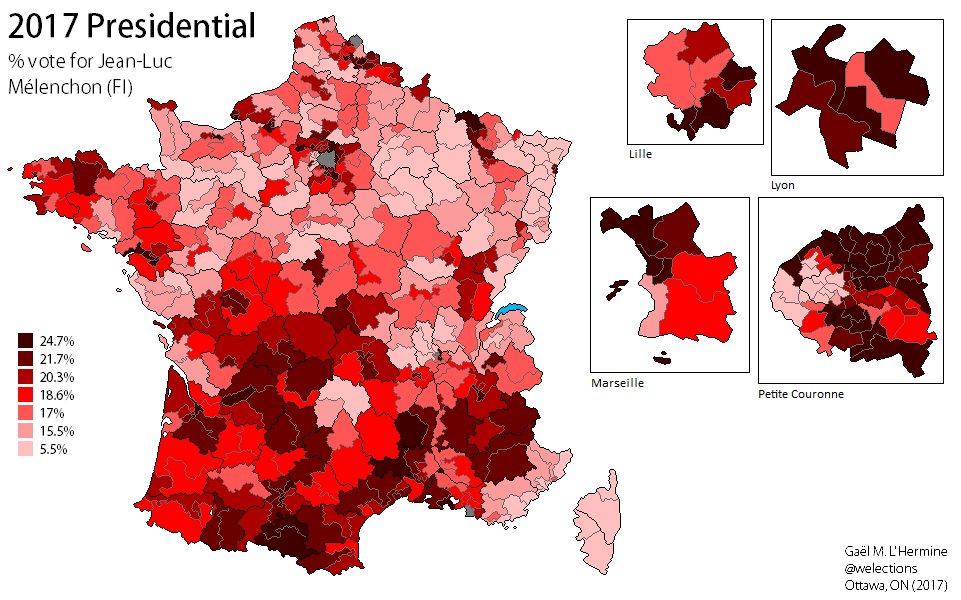 Melenchon did best in the traditional left-wing areas as seen on the 1974 map: north and east of Paris and in the southwest, as well as parts of the north.  The wealthiest areas (right along the Cote d'Azur and the upscale Paris suburbs) unsurprisingly don't like socialism.  Nor does the German borderland region of Alsace.  His strength with younger voters allowed him to do pretty well in upscale cities that also gave Macron large numbers of votes, however.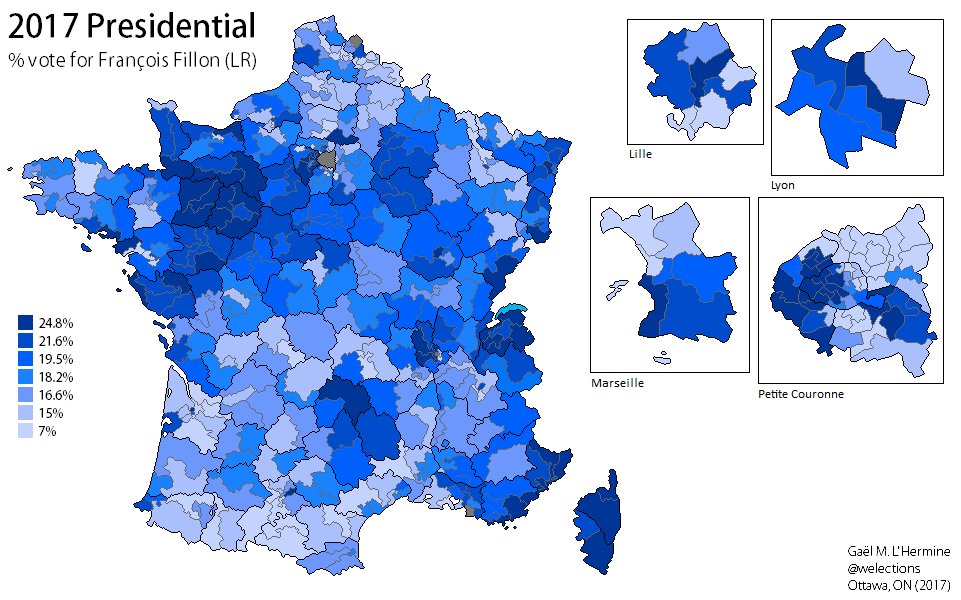 The deep blue area in the inner northwest of France reflects Fillon's own home base, not a particular love for conservatism.  We can see the right's usual strength along the Cote d'Azur, in Corsica, in Alsace, in the Alps, and in the wealthy parts of the Paris region.
Now, finally, some numbers.
Macron's Best Areas:
Expats (40%)
Paris (35%)
City of Rennes (32%)
Department of Hauts de Seine, Paris Suburbs (32%)
City of Nantes (31%)
City of Bordeaux (31%)
Department of Ille-et-Villaine, Brittany (30%)
City of Caen (30%)
City of Clermont-Ferrand (30%)
Guadeloupe, Carribean Territory (30%)
Le Pen's Best Areas:
Department of Aisne, Northern France (36%)
Department of Pas de Calais, Northern France (34%)
Department of Haute-Marne, Northeastern France (33%)
Polynesia, Pacific Territory (33%)
Department of Meuse, Northeastern France (32%)
Department of Ardennes, Northeastern France (32%)
Department of Vaucluse, Provence (31%)
New Caledonia, Pacific Territory (31%)
Department of Var, Provence (30%)
Department of Aube, Northeastern France (30%)
Fillon's Best Areas:
Polynesia (35%)
Mayotte, Overseas (33%)
Department of Sarthe, Pays de la Loire (home region, 29%)
Department of Hauts de Seine, Paris Suburbs (29%)
New Caledonia (29%)
Department of Mayenne, Pays de la Loire (27%)
Department of Yvelines, Paris Suburbs (27%)
Department of Alpes-Maritimes, Provence (27%)
Expats (26%)
Paris (26%)
Melenchon's Best Areas:
Seine St. Denis, poorer Paris suburbs (34%)
City of Montpelier (31%)
City of Lille (30%)
City of Le Havre (30%)
City of Toulouse (29%)
Martinique (27%)
Department of Ariege, Pyrenees (27%)
City of Clermont-Ferrand (26%)
City of Rouen (26%)
City of Nantes (26%)